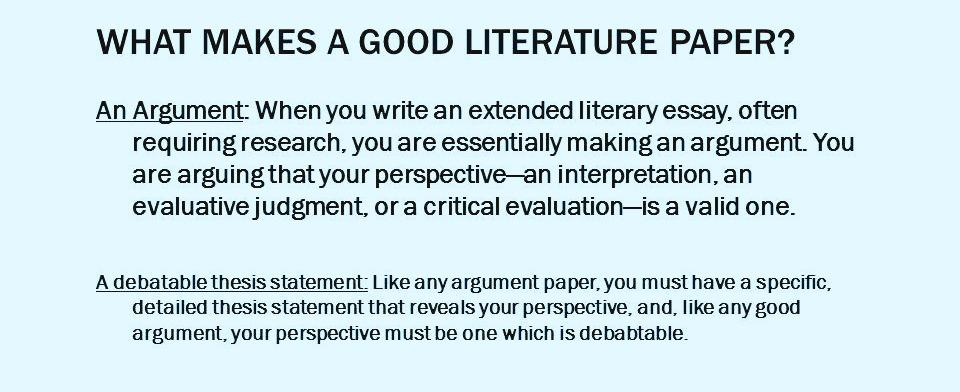 How many times you had to write a literary analysis essay? In fact, this task is among the most popular assignments given to students in many colleges and universities. Working on such a paper requires advanced writing skills and a good level of preparation. But before we help you understand how to produce an analysis paper, let's figure out what a literary analysis is. In a nutshell, a literary analysis essay is an analytical piece that aims to evaluate a particular literary work from different perspectives. Being able to analyze the specific literary aspects of the work, as well as build objective arguments, you will be able to cope with this task without extra effort. However, if you lack a clear understanding of how your paper should look like, then our helpful guide will become your source of interesting ideas. Pay attention that the more you practice your writing skills, the better writing outcomes you will receive. So, be attentive and we will help you figure out how a good literary analysis should be written.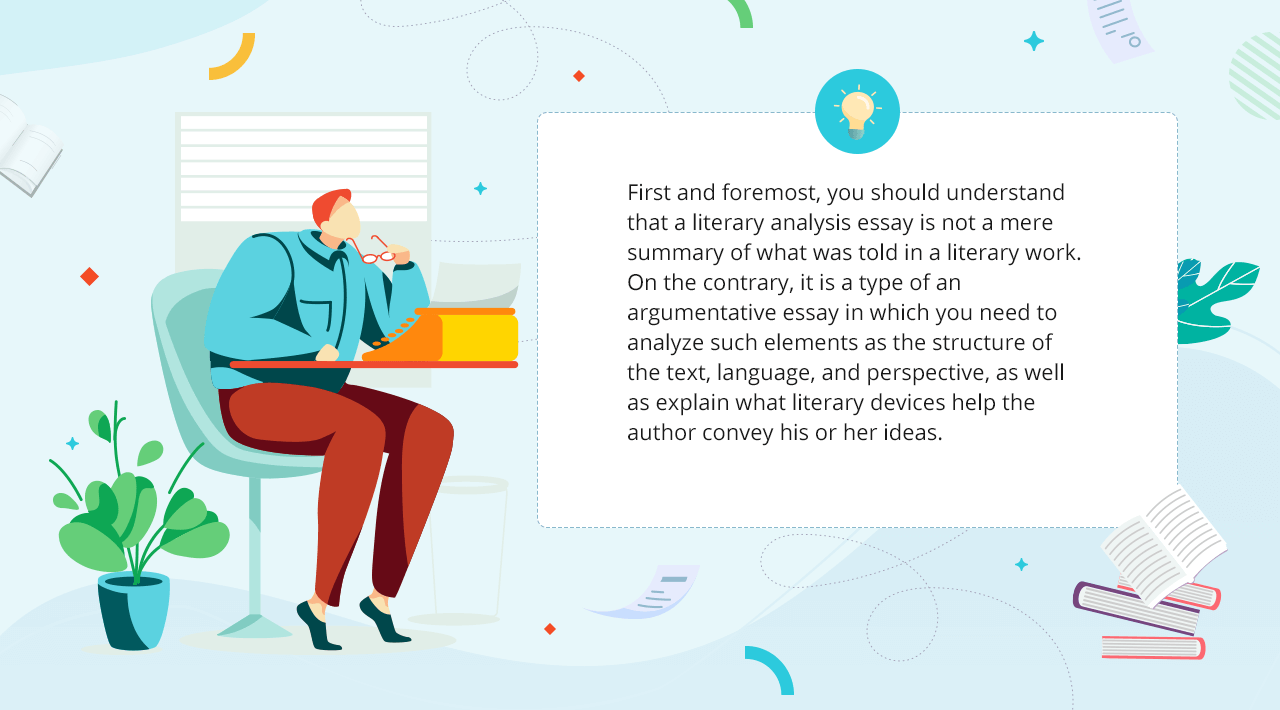 Before you start working on your essay, it is vitally important to read the text carefully and come up with a good thesis statement. Besides, you will need to follow the classic essay structure established by the latest standards of academic writing. Have a look at the literary analysis essay structure accepted in academic writing:
An introduction is the first paragraph of your essay. You need to make it maximally engaging and creative in order to make your critical analysis essay sound interesting for your reader. Although it is pretty short, it is a good way to grab the attention of your target audience. What is more, your introduction is a good place to provide background information on your topic in order to contextualize it;
The main body is the part in which you need to present the actual literary analysis. It should include as many arguments and evidence as it is necessary to convey your ideas;
A concluding paragraph is the last part of your essay. It should be written perfectly because the primary purpose of this part is to make an impression on the reader. Making it sound good, you will enable your reader to enjoy your essay.
How to Write an Analysis Essay? A Step-by-Step Guide
As well as any other academic assignment, a literary analysis paper requires good preparation, attention to detail, as well as meticulous work. For a student, who lacks sufficient knowledge and writing skills, the writing process can be pretty challenging. However, by having a plan, you will be able to enjoy it. Below, you will find the main steps for writing analysis essay.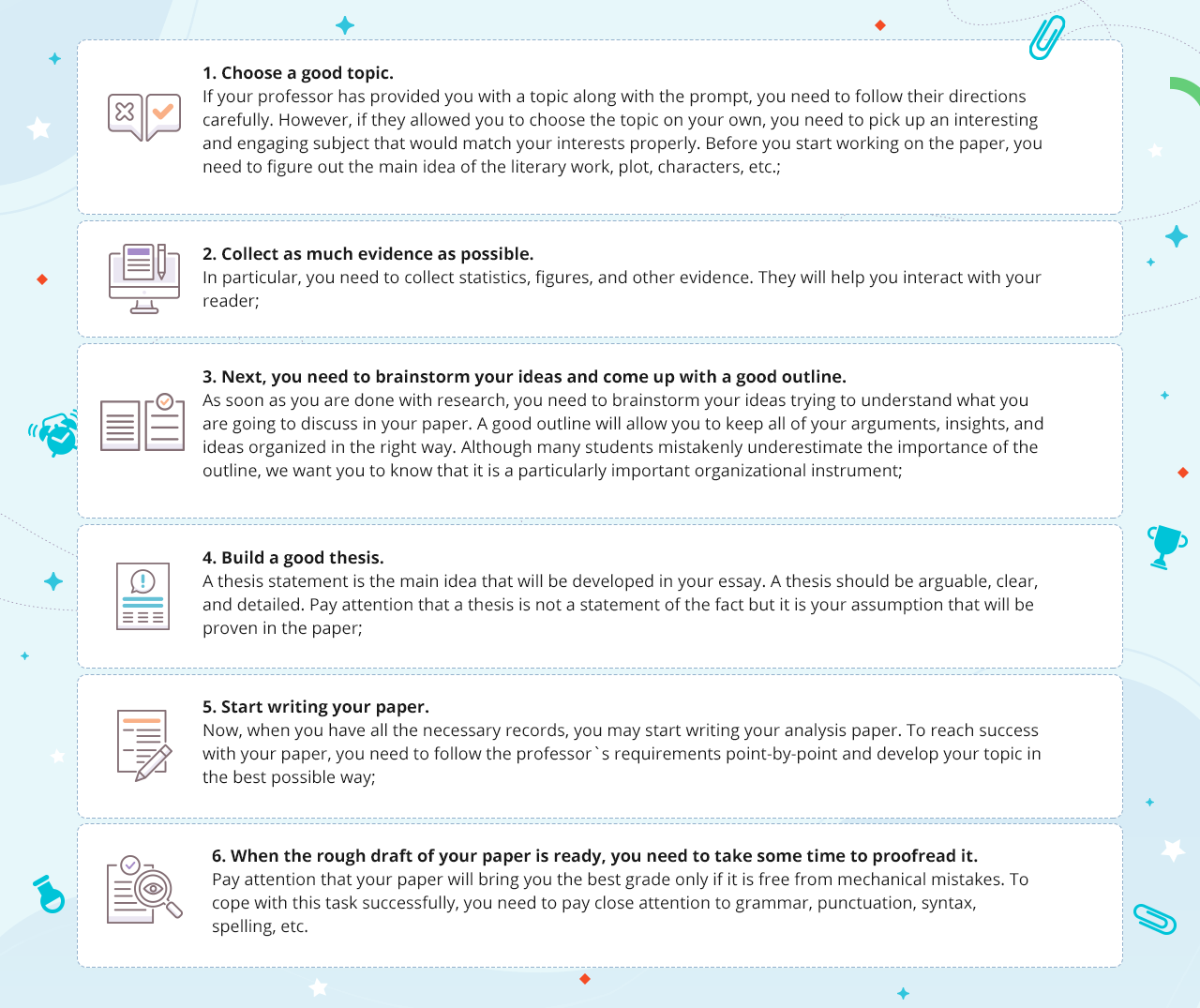 Reading the Text and Identifying the Literary Devices
Following the suggestions mentioned above, you will be able to understand how to write an analysis paper. Let`s have a closer look at the writing process.
How to start a literary analysis essay? The first step in the process of creating a perfect literary analysis essay is the careful study of the lecture notes. To write an unmatched paper, you need to understand what is required of you. The success of your paper depends on how well you are able to follow the professor`s requirements. Therefore, you should study your instructions carefully and, in case of having any questions, you should contact your teacher;
Next, you need to study your primary source. When reading the text, you need to pay attention to the following details:
It means that you need to pay close attention to the style used by the writer. Are the sentences simple or complicated? What word choices are too sophisticated or unusual? What means of figurative language are used by the author? Who is the narrator? If it is a first-person story, you should tell about it. Also, you need to consider the tone used by the author. Is it more comic, tragic, or neutral?
To write a good analysis paper, you need to pay attention to how the text is structured. Does the writer tell his or her story in chronological order? What parts are used by the author (lines, scenes, chapters, etc.) Only when you know the original source properly, you may start writing your paper.
Why the paper is written? What is its primary purpose? Does the writer need to educate, teach, or amuse the reader?
Make Up With a Thesis Statement
A thesis statement is an idea that gives a direction to your paper. In other words, it is something that does not allow you to make your essay just a set of observations. On the contrary, a good thesis statement turns your paper into a clear and comprehensive unit. A well-developed thesis statement will allow you to understand what ideas you need to develop in your paper.
Find good textual evidence
Even the best literary analysis essay cannot be written without good textual evidence. As such, before you start working on your paper, you need to collect as many credible and authoritative sources as possible. Do not forget that all the supporting sources you use should be cited appropriately in your paper. Using the ideas of other people without mentioning their authorship will be considered as plagiarism.
Write a Title and an Introduction
As soon as you are done with the preparation stages, you may start writing your literary analysis. Make sure to begin with writing a good title. The title of your paper should be clear, detailed, and concise. It should inform your reader what is your paper about. A good title will engage the reader enabling them to understand that your paper is worth their attention.
An introductory paragraph is the first paragraph of your paper. Basically, your introduction is a brief overview of the main argument. Being engaging and informative, an introduction should include a thesis statement. If your essay is pretty short, a thesis statement should take not more than one sentence. Some students prefer writing an introduction when the rest of the paper is written and it is not a bad idea. By doing this, you will be able to make your introduction maximally accurate and clear. However, if you want to write your introduction at the very beginning of the writing process, you can do it and revise this paragraph whenever it is needed.
Write the Main Body of the Essay
The main body is the part that appears between an introduction and a conclusion. It provides the actual analysis of the topic providing the reader with good arguments and textual evidence.
Typically, a literary analysis essay consists of five paragraphs: an introduction, three paragraphs of the main body, and a conclusion. As such, you need to divide your main body into three main parts. When moving from one paragraph to another, do not forget to use smooth transitions.
Each of your main body paragraphs should begin with a good topic sentence. These sentences should be related to a thesis statement. A topic sentence enables the reader to understand what is the paragraph about at first glance;
Using textual evidence is an integral part of the process of writing a literary analysis essay. You cannot base your analysis merely on your perception of your work. On the contrary, you need to back up all of your arguments with great evince both from the primary source and additional sources. Quoting is a particularly effective way to explain the author`s messages.
Finalize Your Literary Analysis Essay With a Good Conclusion
The primary task of your conclusion is to make a good impression on your reader. As such, you should not introduce new details to this paragraph but need to synthesize the findings in an appropriate way.
Pay attention that a good literary analysis essay cannot be written in just a couple of hours. As such, we highly recommend you take enough time for writing your paper. Pay attention that the more time you will spend on writing your paper, the better result you will receive. Even if you have no idea how to write a literary analysis paper, our helpful suggestions will enable you to create a winning piece.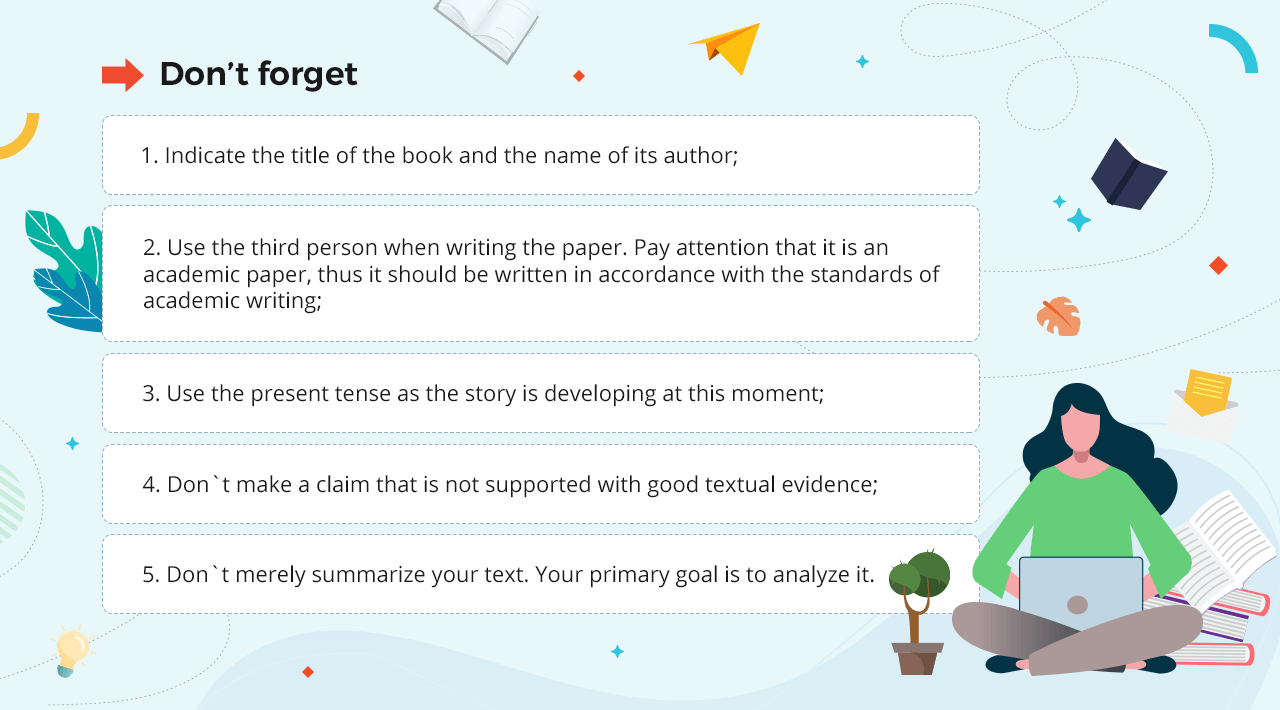 Additional Tips for Writing a Good Literary Analysis Essay
Use both the Internet and the library for research.
Researching is an integral part of writing a good literary analysis essay. To add credibility to your work, you need to work with the peer-reviewed and authoritative academic sources that are not older than five years. In case you are willing to use the specific source, you need to talk to your instructor. To make your research more fruitful, you will need to use both the library and the internet;
Use the info you find properly
No matter how many sources you have collected when researching, you need to pick up the most relevant and accurate ones. These sources should help you back up your arguments;
When working on your literary analysis paper, you need to pay close attention to the format that is indicated in your prompt. Proper formatting, along with the good content and classic structure of the paper, is an integral part of the grading rubric. As such, if you were asked to follow the APA formatting style in your paper, you will need to follow the APA guidelines when it comes to the citations and the common layout of the paper;
Edit your paper carefully
If the final draft of your paper is ready, you should not hurry up to submit it because it is the time to revise your paper. Make sure to get rid of all the awkward statements, run-on sentences, and mechanical flaws. Only a paper that is absolutely free from mechanical mistakes can bring the best outcome.
Conclusion
Writing a good literary analysis essay is not an easy task to do. However, following the guidelines and suggestions collected in our guide, you will be able to create a brilliant paper that will bring you not only a good grade but also respect from your teacher. If you find it too difficult to understand how your literary analysis essay should look like, you may check out the well-written samples that will help you figure out how such a paper should be written structured, and formatted. Finally, pay attention that your paper will bring you the best grade only if it is absolutely free from plagiarism. We do hope that our suggestions will help you understand how to write a superb literary essay. However, if you won`t manage to receive a good grade, don`t give up! Practice makes perfect! By improving your writing skills, you will be able to create A+ papers. Good luck!