What Is a Thesis Statement?
A thesis statement is a basic idea of the paper that allows the writer to be focused on the topic and skip meaningless information. You should understand that a thesis statement is not merely a topic, but it is a statement that reflects the author`s judgment or opinion based on his or her personal experience. In its essence, a thesis statement is a core argument that provides the literary analysis essay with a direction and prevents the text from being just a collection of observations about the specific literary work. If you were provided with a guideline for writing your literary analysis essay, your thesis statement should be connected with this prompt. In other words, a thesis should explain why it is or why it isn`t the case. If you were given the freedom to choose your own topic, you should do your best to come up with a good thesis statement. Before you create your thesis, you need to brainstorm your ideas properly. After you have studied the text, ask yourself what was the most interesting to you about it. What may seem interesting for your audience? A good thesis statement is always arguable. It means that it should state your position, which is not a matter of fact. Besides, it should be complex enough to allow you to develop your evidence and arguments through your literary analysis essay. Pay attention that you can always revise your thesis statement in the process of writing as long as you make it credible and accurate. Only a good thesis will allow you to develop a marvelous essay.
What Makes a Good Thesis Statement?
A good literary analysis thesis statement provides the writer with the direction, as well as limits him or her of what to write in the essay. It allows the readers to understand if your essay is worth their attention, as well as what aspects you are going to explore in the main body of your paper. All the paragraphs of your paper should be connected with your thesis. In particular, they should back up, explain, or argue your thesis statement. A good thesis statement is not merely a statement of the fact, but it always requires some proof. During the writing process, you need to prove your thesis statement with solid and credible evidence. Each of the topic sentences that appear at the beginning of your main body paragraphs should support your thesis statement.
Where Should I Put a Literary Analysis Thesis Statement?
Very often, a thesis statement appears at the end of the introduction and leads to the main body of the paper. If you place your thesis statement at the very beginning of your introduction, your reader may simply forget it. Do not forget that a good introduction should contextualize the thesis statement providing the reader with helpful background information.
Tips for Creating a Literary Analysis Thesis Statement
To come up with a good thesis statement, you should be aware of your topic. Ideally, you need to choose the topic on your own and this topic should match your research interests. It will be difficult to write a great thesis having no idea of what to write in the paper. As such, we highly recommend you study all the materials on your topic that may be helpful;
To write a good literary analysis essay, you need to make sure that your topic is broad enough to analyze it from different perspectives. Choosing a topic that is too narrow, you won`t be able to find enough credible evidence. In other words, your topic should provide you with room for discussion;
If you are experiencing any difficulties with building a thesis, it is highly recommended to brainstorm your ideas to figure out everything that comes to your mind on a topic. Did you discover any connections between separate aspects of the literary work? Have you noticed any interesting insights? Did you find any interesting themes that are worth discussion? Pay attention that a good brainstorming process will help you create a perfect thesis statement.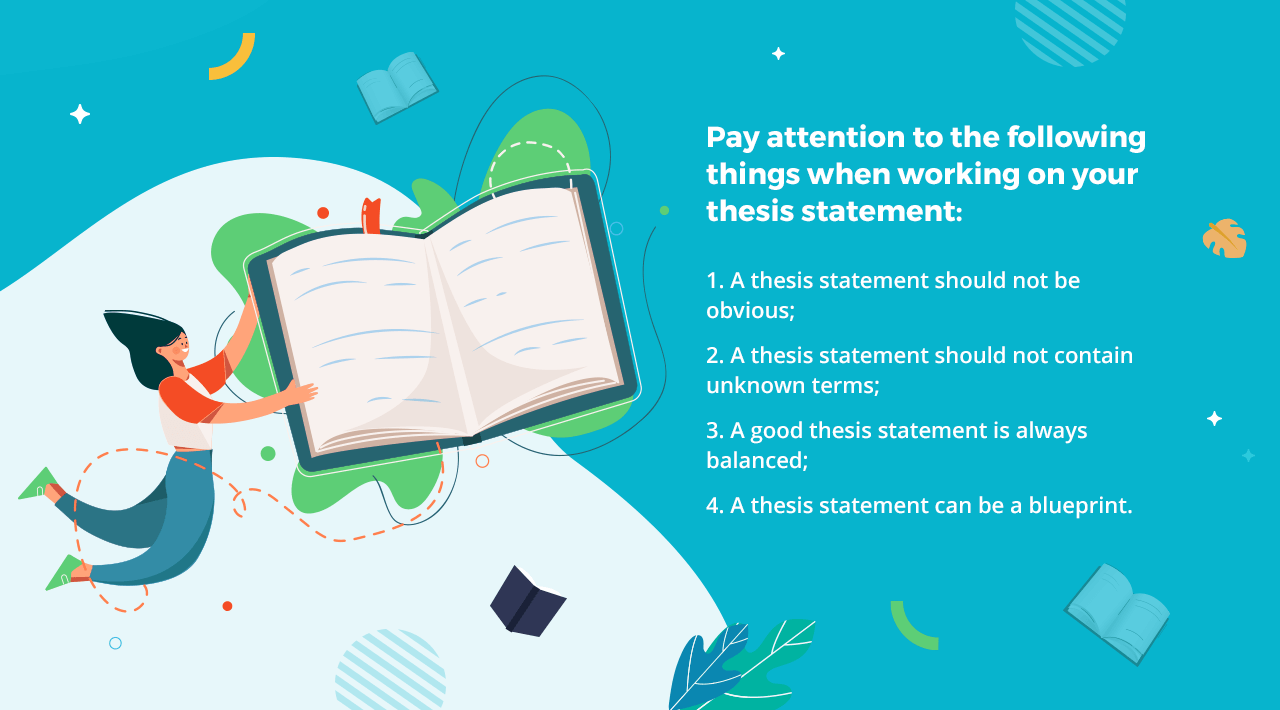 A literary thesis aims to prepare your reader for what you are going to say in your paper. To make your essay sound good for your reader, you need to make up an engaging thesis. If your reader thinks "So what?" after reading your thesis, then you have probably failed your task. To engage your reader, you need to do your best to make your thesis thought-provoking.
How to Write a Thesis for a Literary Analysis? Use Literary Terms Properly
All novels and poems use imagery, rhyme, rhythm, metaphors, stanzas, settings, and many other aspects. Although you need to use these words when writing your analysis, they should appear in your thesis statement in an appropriate way. If you say "The author uses various literary devices," it won`t be a good thesis statement because you need to be more precise.
Keep Your Thesis for Literary Analysis Balanced
If your thesis statement is too general, it will become too vague. If it is too specific, you will find it very difficult to develop it. Ideally, you need to find a balance that will allow you to develop your thesis in a good way.